Condé Nast use iPhone 7 Plus for magazine cover shoots. Why not Galaxy S8+?
40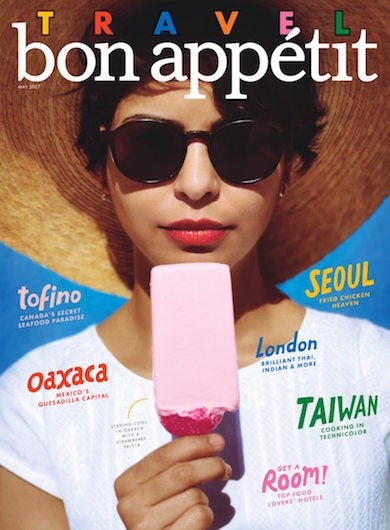 Imagine being hired for a fancy photo-shoot for a magazine cover, let's say. That would be cool! Imagine turning up at the shooting location, models waiting for you, lights on and all, and you pull out your iPhone and go "Ok, everyone, let's do this!".
That's what photographers for Condé Nast experienced at the photo-shoots of the May covers for 'Traveler' and 'Bon Appétit' magazines. The covers look absolutely stunning! The photo-shoot was done by a husband and wife couple, known as Peden + Munk, and inspired by the link between photography and travel. The idea being that travelling with an iPhone 7-like gadget is more convenient and does not take away from the quality of your snaps. Those guys…
We couldn't help but ask why didn't they use a Samsung Galaxy S8+. It only makes sense that the newer, the better, right? However, we recently compared the cams of the best available flagships, and, honestly, we probably would have chosen iPhone 7 Plus for this specific photo-shoot, too. Here's why.
What are you shooting?
We don't really pick our smartphones based on the type and set of photos that we are going to take. We are more concerned about bling-bling looks and price. Looking for a phone with just a "good camera" is the same like looking for a smartphone to make calls - you must consider what shooting environment you aim for, in order to have the results you expect from your phone's cam.
In the case of Condé Nast, those guys apparently took pics out in the Mexican sun (Oaxaca, to be precise), and at the beach – outdoor places with lots of light, natural colors and a minimum of shade. Both covers required strong contrast capabilities, even though the color transitions on the 'Traveler' cover are a lot smoother.
In our cameras comparison, iPhone 7 Plus certainly excelled in settings with abundant light, showed sharp contrasts and plainly delivered superb image quality.
iPhone 7 Plus cam vs Samsung Galaxy S8+ cam

Both phones deliver the same aspect ratio and resolution, so that's not a point of debate. However, iPhone's cam features a slightly smaller sensor and smaller pixels than the new Galaxy flagship. Samsung has also improved the image processing aspect of shots you take, which digitally clears blur in pics. Sometimes too much, though, giving photos a slightly artificial look.

Samsung does have a good touch on photo processing algorithms that will separate colors and shapes better than your eye. However, like we said above –it's more important what you are shooting than what you are shooting it with.




< iPhone 7 Plus

Samsung Galaxy S8+ >

Samsung Galaxy S8+ (right) delivers fantastic detail and vivid colours, even when light is not abundant.
Why sometimes iPhone takes richer pics?
The duo of 12MP lenses on iPhone 7 Plus can pull off some tricks that the 3-photo comparison on S8 just can't quite attain, in terms of optical quality. Yes, in low and indirect light, iPhone lacks the richness in image that the Galaxy produces, but in abundant light, the optical zoom can produce some true masterpieces. And covers of magazines, apparently.
Notice how both magazine covers have solid focus on a large primary object that fills most of the composition? Notice how the woman's colorful attire blends smoothly with the deep blue background; and how the boat's red rim naturally transits into bland sand colors? Even though the sensor takes in less light than that of S8+, the optical rendering delivers superior natural looks, with well-balanced, but sharp shading.
Where Samsung's digital processing would worry about pixel noise, and thus create some weirdly looking edges, iPhone's optics would blend lines so well, that you'd have to wonder whether Photoshop played a part. Had a Galaxy S8+ been used in place of iPhone 7 Plus, the left rim of the ice-cream might have had a much sharper, darker pink depth line. When zoomed, the red rim on the boat probably would have had a vague, but very real, hue of a handful of pixels, garbage of digital rendering.
< iPhone 7 Plus
Samsung Galaxy S8+ >
iPhone 7 Plus (left) benefits from 2 x 12MP sensors and optical zoom
A new era of photography
$2000 DSLRS are making room for much cheaper artworks of technology, in the face of some truly magnificent pieces of smartphone cameras. Condé Nast's choice to use an iPhone for the shoot of covers for its magazines is not a novelty, as last year's Culture issue was also shot by iPhones. The trend is here to last. And why not?
Samsung certainly takes its cam game to a next level with the Galaxy S8. The phone does really well in low-light conditions and when shooting moving objects, thanks to state of the art image processing that chooses the best out of three possible variants for your snapshot.
However, when light is not an issue, and shooting a close-up or portraits, iPhone 7 Plus has more on offer than you would think, considering its "age". Even though the sensor and the pixels on iPhone are smaller than the ones on Galaxy S8, the 7 Plus benefits strongly from its optical prowess. Images look natural, colours are full, zoom mode is fun. We just can't wait for Apple's next flagship to make a splash later this year. It will be interesting to see whether the folks at Cupertino will bet on the double-lens plan again, as it proved to be a winner in the last iPhone.