Concept video shows what the rumored 5.5" and 4.7" iPhone 6 models could look like
24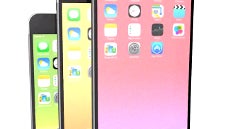 The Concepts iPhone team is back at it, fleshing out the latest analyst forecast for the iPhone screen size in a video format. Korean securities firm KDB Daewoo Securities Research, recently
issued a note to clients
on the expected specs for the Apple iPhone 6 that is supposed to arrive in late summer/early fall this year.
The report says that the Apple iPhone 6 will be available in two sizes, one with a 4.7 inch to 4.8 inch screen, and the other with a 5.5 inch glass. The resolution on the displays will be 1080 x 1920 and 1280 x 2272 respectively. The glass will be made of indium gallium zinc oxide (IGZO) instead of the low-temperature polysilicon (LTPS) employed on current iPhone models.
This setup would leave Apple with a three-pronged approach to screen sizes, as it will likely keep the current 4" iPhone 5s as a mid-range model, as usual. While a 5.5" iPhone "phablet" sounds rather fishy, Display Search analysis back in January
reiterated that diagonal being in the cards for the iPhone
, so Apple might at least be toying around with the idea. Here's what the Apple portfolio might look like this year, if the 4.7" and 5.5" iPhones indeed materialize, in a concept video designed by Enrico Penello and Ran Avni.