Codify redefines coding: touch-enabled programming comes on your iPad
1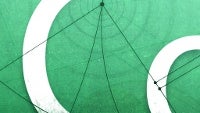 Who said coding was hard?
Codify is an iPad application
that challenges your perception of programming at the very core. It's unique by just being available on the iPad – a device with no hardware keyboard, but – sure – you can add one to type faster. The point of Codify, though, is that it allows you to touch the screen selecting predefined objects and colors, instead of type. Basically, it's a text editor, but it's so visual and advanced it almost doesn't feel like one.
So how does it tackle the challenge of the
touch dominated platform
that the iPad is? Simply – by adding touch actions for the most common variables. If you need to select a color, you don't have to type down the RGB value – instead you just select the color on a pop-up palette. For numbers, you can change them by a simple dragging motion. There's a huge set of predefined objects, but what's impressive is the ability to instantly preview your code. If it's a game, you can simply play it and it will respond to all of iPad's sensors – accelerometer and multi-touch support is enabled.
Currently, Codify is only available on the iPad, but not the iPhone or iPod touch, costing $7.99. Check out the video demo below – programming looks deceivingly easy, doesn't it?
Create Anything on your iPad with Codify
Codify is an App that brings touch-based programming to Apple's iPad
Adelaide, Australia - Oct 23, 2011 - Two Lives Left has built Codify, a platform that game designers, educators and students can use to create games and experiment with visual ideas. Codify is an iPad App that allows users to create and play interactive games and simulations directly on their device.
Built on the Lua programming language, Codify provides one of the richest coding environments available. Users can adjust numbers simply by dragging them, as well as touch colors and images directly in their code to visually edit them. At any time the code can be "played," dropping the user into an interactive viewer that responds to multi-touch, accelerometer, and more.
Codify is designed for rapid prototyping and easy development. It includes full, in-line reference documentation at the touch of a button, intelligent auto-completion, and a beautiful user interface.
Codify is approved by Apple and will be released on Wednesday, 26 October 2011 for US$7.99 / AU$8.49.
For media and video please see twolivesleft.com/Codify
About Two Lives Left
Two Lives Left is an Adelaide company that was formed in 2009 by Simeon Nasilowski, John Millard and Dylan Sale while they were studying their PhDs in Computer Science at The University of Adelaide. They create fun and interesting games all the time.
Their website is www.twolivesleft.com and they can be found on Twitter.com/TwoLivesLeft and Facebook.com/TwoLivesLeft