Cobra's iRadar detector-and-app combo coming to Android on April 4th
2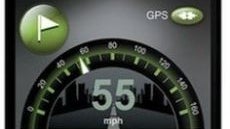 If you're unfamiliar with Cobra, then you're either not a driver, or you're one of those abnormally law-abiding motorists. Cobra is the largest radar detector company in world, and is responsible for preventing untold millions of traffic tickets.
Their smartphone app/radar detector combination, called
iRadar
, has been available for the iPhone since October, 2010. It uses Bluetooth to connect your detector and device, allowing you to integrate your GPS navigation with various traffic alerts. Now, predictably, they're expanding iRadar to Android devices on April 4th. The iPhone and Android versions both cost $129.95.
Using AURA, a verified database of traffic threats, the driver will be made aware of speed traps, red-light cameras, hazards, and dangerous intersections. The crowd-sourcing feature also allows users to report their own findings, creating a real-time picture of potential threats.
The Cobra iRadar app also allows you to monitor your car battery's status, view your compass heading, and configure the radar detector itself. While radar detectors are legal in many states, we're curious to see if legislators will begin to attack such crowd-sourced traffic evasion, after they're done with the
D.U.I. checkpoint
apps.
source:
Virtual Press Office
via
IntoMobile
Recommended Stories