Circular concept of Microsoft smart-watch gets Cortana and Lumia Glance on-board
16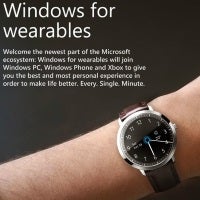 It's hardly a secret that Microsoft is preparing a smart-watch. But outside of literally sketchy patent drawings, there is little we've seen or heard about Redmond's time-piece. However, Gearlive recently claimed that it has seen the wild Pokemon in action and reported that it looks more like a Fitbit One or the
Samsung Galaxy Gear Fit
rather than a traditional watch.
Reportedly, it didn't look as good as any of the two, but the device is packed to the brim with sensors - heart rate monitor, accelerometer, gyroscope, GPS, and a galvanic skin response sensor. If they carry over to the final product, the "Surface Watch" or "X-Watch" or "Kinect Wear" or "Windows Watch 2000 Server Edition" will know you better than your entire family.
Inspired by the mythic device, designer Nadir Aslam came up with some wonderful concepts for the future smart-watch. Alas, they probably don't have a lot in common with the watch Microsoft crafted, but there's always a second time for these things.
Notably, Cortana seems to live very comfortably on the circular watch-face, and the device's software has got some customization options and Lumia Glance built in. Definitely not a bad piece of concept kit!