Chrome for Android banner makes it easier to add a web app to your home screen
1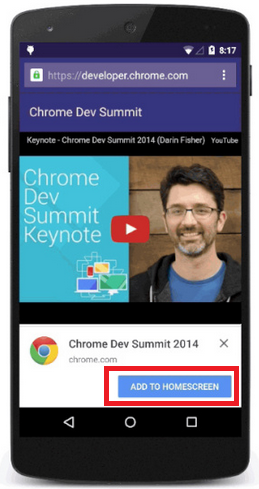 If Chrome for Android users want to install a web app on their home screen, they currently have to go to the overflow menu on the Chrome Browser to start the process. But Chrome 42, which is in beta, is adding a banner to certain websites that ask the user if he wants to add the site to his home screen. Not every site will have this pop up, only those that offer users an experience similar to a mobile app.
If you're worried about a banner taking up too much real estate on your screen, the Chrome team has set it up to appear only on sites that the device owner has visited "
twice over two separate days during the course of two weeks
." After all, there is a fine line between offering Chrome for Android subscribers a useful tool, and getting in the way with bothersome pop-ups. If you dismiss the pop-up, you won't see it again unless you clear your history.
One thing that isn't clear yet is whether the Chrome user will be able to turn off the feature. Google wants mobile device users to have the same experience whether opening a website or an installed app.
source:
ArsTechnica
via
TalkAndroid