Chrome Remote Desktop comes to Android
5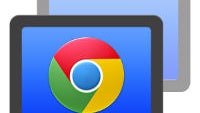 This is one app that has been in the works for quite a while. We first heard that Google was working on a
remote desktop
app that would work between Chrome and Android in June of last year, and really we didn't hear anything about the project since then. At least not until today, when Google finally released the Chrome Remote Desktop app for Android.
The app is surprisingly easy to use. All you need to do is install the Chrome Remote Desktop app on each desktop, laptop, or Chromebook that you want to be able to access, then install the app on your Android device. The early reviews on the app are mostly positive, with many users saying that the performance is smooth and easy. There are some limitations, especially if you have multiple monitors on your desktop, which will display as a single monitor, and Linux is still left in the lurch.
If you need something relatively basic, it should work fine. If you need more advanced options, you may still be best served with another app like Splashtop. Google has obviously done quite a bit of work on the app though. Even though it just hit the Play Store today, if you check the listing, you'll see that the app is already at version 35.0.1916.37. You don't often see that with new apps.