Chinese powerhouses lead the way in AnTuTu's recent top 10 chart
38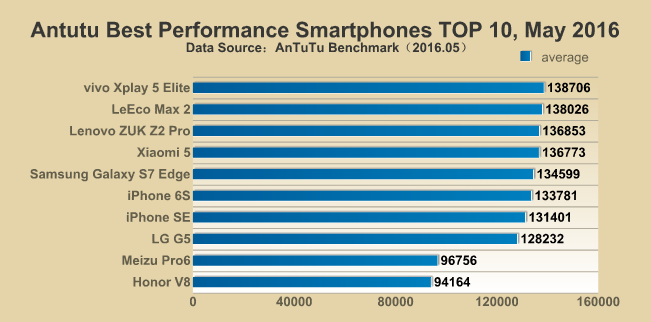 AnTuTu, one of the most popular mobile benchmarks, has just released a list of the top 10 fastest smartphones for the month of May 2016. Leading the pack are several smartphones from China, all of which feature 6GB of RAM.
The top three smartphones in AnTuTu's May 2016 list - the Vivo Xplay 5 Elite, the LeEco Max 2, and the Lenovo ZUK Z2 Pro - are all based on the same configuration, namely a Qualcomm Snapdragon 820 chipset paired with 6GB of RAM. Interestingly, the occupants of the number four and five positions are also based on a Qualcomm Snapdragon 820 SoC, but paired with 4GB of RAM. As such, AnTuTu's chart allows us to spot the difference in processing power that 2 extra GB of RAM makes.
The three smartphones with 6GB of RAM scored an average of 137,861 points. In the 4GB-of-RAM camp, the Xiaomi Mi 5 and the Samsung Galaxy S7 average out at 135,686. That's good for a 1.60% difference, which although notable, is not significant. On the other hand, having more RAM on your smartphone will allow the OS to keep multiple apps loaded at the same time, which will reduce delays when switching between processing-intense apps.
At this point, it should be noted that no benchmark can be considered a scientific assessment of device performance. Furthermore, bear in mind that AnTuTu calculates the score by taking into consideration multiple aspects, such as the CPU performance and the GPU performance, both of which are usually of greater importance than the amount of RAM.
Another highlight of AnTuTu's recent top 10 chart is that the iPhone SE allegedly offers lower performance levels than the iPhone 6s. This is the opposite of what we've been able to observe in our
Apple iPhone SE review
, and also a bit strange given the hardware used by the two phones.
Both the iPhone SE and the iPhone 6s make use of the same chipset and the same amount of RAM, but there's a notable difference in resolution: the 4-inch display of the iPhone SE runs at 640 x 1136 pixels while the 4.7-inch display of the iPhone 6s runs at 750 x 1334. The difference in physical pixel count means that the GPU on the iPhone 6s needs to put in extra work to render graphics, which should take a toll on the overall performance. In our Apple iPhone SE review, we found that the iPhone SE is the fastest iPhone of all time in terms of benchmark results.