Chinese media approves of Tim Cook's apology about the recent warranty-related issues
6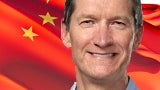 Well, what do you know, when one of the biggest tech companies in the world issues an apology letter, the Chinese state media appreciates it and drastically changes its tone. At least, that's what has happened after Apple CEO, Tim Cook, officially apologized for Apple's warranty practices in China.
These controversial practices include stuff like replacing iPhones with refurbished models, or simply opting to replace single parts instead of the whole product, as according to Chinese laws, replacement products require a full year of warranty, while replacement parts require only a 30-day warranty period.
However,
Tim Cook's open letter to the press
seems to have worked, as the latest reports inform us that the state-run People's Daily publication has written:
"
The company's apology letter has eased the situation, softening the tense relationship between Apple and the Chinese market ... Its reaction is worth respect compared with other American companies.
"
Foreign ministry spokesperson, Hong Lei, also had a positive reaction, saying "
We approve of what Apple said.
"
It's easy to see why Apple decided to improve its warranty conditions in the country - China is its second-biggest and fastest-growing market. This makes it insanely important for Apple - a market where the US-based company wouldn't want to take any risks with regards to its image.
source:
Reuters