Chinese listing has the Moto 360 being very expensive
28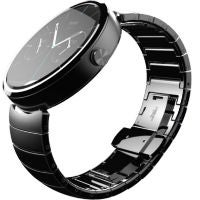 It is really annoying to not have a full set of information. We know just about everything there is to know about two of the three Android Wear devices that are launching the platform. There aren't any questions left about the LG G Watch or Samsung Gear Live. Unfortunately, most people really want the Moto 360, and that's the one we still don't know much about.
As far as the internals, we expect the 360 to be very similar to the other two, but it is really the price that has everyone worried. Unlike LG and Samsung, Motorola is going for a premium look and feel with the round face. There have been rumors of sapphire glass and wireless charging, all of which could add to the cost. That makes a new pre-order posting from China a bit more worrying, because it has the Moto 360 listed for 2,800 yuan, which converts to about $450. The same site has the LG and Samsung Android Wear devices listed for 1,500 yuan.
Of course, this could mean nothing. It could just be a listing set on the high side to capitalize on the excitement around the Moto 360. The same listing also puts the weight of the device at 250g, and almost everyone says the 360 feels lighter than the LG and Samsung Wear devices, which are in the 60g range. Remember, Motorola itself put the value of the 360 at
$249
in its watch face contest, although it did later deny that would be the retail price. And, we've seen
listings in Europe
that put the price in the $340 range. So, it's hard to say what the price will be, but any number over $300 gets us very skeptical.