Chen: Those who leak BlackBerry products will be punished
41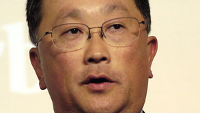 Something has BlackBerry CEO John Chen steamed about leaks. The executive wrote in the company's own blog that it will now take legal action against those who leak non-public information about BlackBerry products. What set him off against those who leak non-public information might have been an incident that recently occurred.
Chen revealed that BlackBerry is taking legal action against someone who pretended to be working for one of the carriers that partners with BlackBerry. The impersonation allowed this person to find out confidential information about a future BlackBerry product, which Chen said was leaked to the public.The executive said that his new strict policy will probably mean that BlackBerry fans will be seeing fewer leaked photos of future BlackBerry devices, even though he admits that they can be fun for the fans.
"I recognize that, in some cases, the leaks reflect people's genuine interest in BlackBerry. There are a lot of people whose enthusiasm for our company and our products makes them want to know what we will do next — and that can be a tremendous asset for us as a brand. But, when curiosity turns to criminality, we must take strong action."
-John Chen, CEO, BlackBerry
This isn't the first time that a handset manufacturer got upset about leaks. After a large number of leaks revealed information about the
Sony Xperia Z1
before its launch, Sony vowed to crack down on the practice, and
posted "No Leakage" signs throughout its offices
. Sony warned employees to follow certain procedures when handling prototypes, such as using a case that could disguise the look of the phone. In addition, Sony told those handling prototypes not to install any apps that could lead a mobile ad network to identify the phone. For all of Sony's desire to stop leaks, the
Sony Xperia Z2
was often the subject of leaked photographs and information.
While
HTC executives hinted legal action against a kid
who made a review of the all new
HTC One (M8)
weeks before Tuesday's launch, we would imagine that internally, executives of the company had to be pleased with the hype generated by leaks of the phone. No amount of advertising could have generated the excitement over the handset that took place prior to its unveiling and launch.
source:
BlackBerry
via
Engadget