Check out the first ad for the Motorola Moto 360
11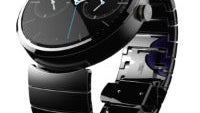 The first ad for the Motorola Moto 360 has been released, and it seems to focus on the difference in design between Motorola's Android Wear flavored timepiece and those produced by LG and Samsung. We see the watch being designed on paper, and circles are everywhere from the sketches of the Moto 360 to the cups of coffee we see from the overhead view.
We even see the circular Moto 360 placed on top of a steel circle. Yes, we get the point. The Moto 360 is round. We do learn about some of the wearable's features such as the scratch-resistant glass, the genuine leather band, and of course, Android Wear.
The
Motorola Moto 360 sold out quickly in the U.S.
its first time around. Motorola has since restocked and the watch can be yours for $249.99 from the Motorola website. While you're waiting for your new watch to arrive, you can check out the ad by clicking on the video below.
source:
Motorola
via
AndroidCentral