Check out the Samsung Galaxy Note 5 edge conceptualized in shiny renders
42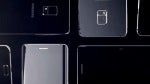 Still riding that jubilant feel after yesterday's Galaxy Note 5 rumors? Getting an anticipated device earlier than usual is always a happy occasion, and we'd love to see those late July launch rumors pan out as much as any of you. For now though, those rumors are just that - rumors, and little creatures from Alpha Centaur are just that - little creatures from Alpha Centaur. So we'll have to patiently wait for Samsung's intentions to be made clear.
Until the moment of truth arrives, we have concept images to entertain our imagination with! Many of you liked
those Galaxy Note 5 renders we published not too long ago
, so we're pretty sure you'll fancy these Galaxy Note 5 edge renders as well. They are envisioned by Ivo Maric and showcase what's, essentially, a bigger Galaxy S6 edge that's also more angular and has a different camera assembly.
Without further ado, enjoy the pretty, shiny renders and keep the anticipation going! The Galaxy Note 5 edge, which could feature a curved 4K-resolution display in addition to a hot-rodded Samsung Exynos chip will be announced in late July at the earliest, or in September at the very late-est.