Samsung Galaxy Note 5 renders show 4K display, metal and glass body
97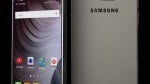 The Samsung Galaxy Note 5 is still a distant September dream, but this shouldn't stop you from having an eyeful of these Note 5 renders. Just look at those god rays the handset is emitting! But overblown effects aside, the renders seem convincing. While we doubt Samsung will ever add that mark below the earpiece, the rest of the show is based on realistic expectations.
Modeled after the Galaxy S6's metal and glass build, the Note 5 is reasonably slim at 0.31in (7.9mm) of thickness, and is configured with pro-level hardware - 4K display, up to 128GB of built-in storage, USB Type C port, fingerprint scanner, and a huge 4100mAh battery.
The 4K screen is already being rumored
, as Samsung Display might be ready to ship 4K OLED panels before the end of the year. Rumors also spell a dual-edge screen version of the Galaxy Note 5, again running Ultra-HD resolution.
Overall, we like what we're seeing and we wouldn't mind Samsung picking up this direction. What about you?
via
Concept Phones