Cheaper, easier to make flexible OLED displays might hit the shelves by the end of 2014
17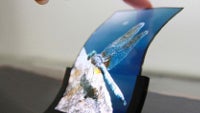 We've reported about bendable displays numerous times before. One of the most prominent and notable appearances of the extravagant technology in the past few years took place in early 2013, when Samsung showcased its
home-made flexible YOUM display
. LG also jumped on the flexible display bandwagon a little later, but this endeavor proved to be quite a hard undertaking for both Korean tech giants. We have not seen a device with a truly flexible display just yet, but this process might hasten thanks to Kateeva, a startup that has developed a manufacturing method, which is capable of producing more durable flexible displays on the cheap.
The company in question, Kateeva, has developed an innovative printing process, which "sprays" a protective layer and encapsulates the OLED units of the flexible display. This coating protects the organic diodes from both of their archenemies, oxygen and water. The inability to develop such an encapsulation method allegedly prevented Samsung, the smartphone maker that still reigns supreme, from manufacturing its YOUM displays on a large scale. The Galaxy Note 4 was
rumored to sport a flexible display
, but this is not among the most probable speculations regarding the
upcoming phablet
.
"Just a few molecules of oxygen or moisture can kill the display,"
claimed Greg Raupp, an Arizona State University display expert.
"So the encapsulation requirements for an OLED display are quite significant."
Another issue that needed to be solved was the implementation of transparent ITO (indium tin oxide) electrodes, which are used in touchscreen displays. These electrodes are miniature and transparent, but quite fragile – they would easily break if you bend the display. Fortunately, another company, named Canatu, has found a way to solve the problem – it ditches ITO electrodes for carbon nanotubes, which are not only more conductive than indium tin oxide ones, but also survive stretching, flexing, and bending quite well.
So, bring it on, smartphone industry!
source:
Technology Review
Recommended Stories