Cheap Windows Phone 8.1-based Yezz Billy 4.7 and Billy 4.0 to be released soon
21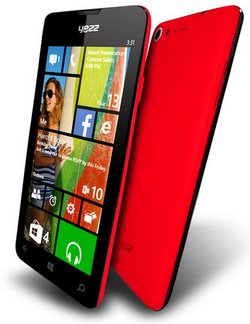 If you haven't heard of Yezz, we won't blame you: it's not exactly a well-known name in the smartphone industry, although it did manage to release quite many Android products until now. Even so, the company, which is based in Miami, USA, today announced two new handsets that run Microsoft's latest
Windows Phone 8.1 OS
. The two devices are called Yezz Billy 4.7 (pictured on the left) and Yezz Billy 4.0.
As its name suggests, the Yezz Billy 4.7 offers a 4.7-inch display (with 720 x 1280 pixels). It's a mid-range handset that further features HSPA+, dual SIM capabilities, a quad-core Snapdragon processor (unknown model), and a 13.1MP rear camera.
Like some of Nokia's Lumia WP handsets, the Yezz Billy 4.7 will have interchangeable back covers (in white, blue, and red). Yezz says that the Billy 4.7 is only 7.2mm thin, this making it "the world's thinnest mobile device based on Windows Phone 8.1."
Starting late May, the Yezz Billy 4.7 will be available in Europe and Latin America, unlocked, for $249 / €229.
Yezz didn't provide too may details about its second WP handset, the Billy 4.0, but we know that this features a 4.0-inch display, a quad-core processor, and an 8MP rear camera. It will cost $139 / €129.
In the US, both the Billy 4.7 and Billy 4.0 should be released in June exclusively via Amazon.
We're curious to know if any of our readers would consider buying a Windows Phone handset from Yezz, when Nokia (
now Microsoft
) is already offering Lumia smartphones for all budgets.
source:
WP Central