Chameleon UI is now on Kickstarter, asking for your cash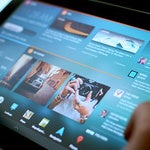 Chameleon is an Android user interface skin that you have heard about,
if you've been following us
, and for a good reason - back a couple of months ago it gave the promise of beautiful widgets and user interaction beyond the plain and simplistic UI of Google's platform. It couldn't negotiate a deal with any particular Android manufacturer, but luckily there's Kickstarter and if you back the project up, it might well arrive on tablets.
Chameleon basically delivers home screens for you at home, at work or when you're out and about - you can set
custom home screens
for your different locations using the built-in GPS in your tablet.
You can also have different home screens depending on the time of the day - a certain set of things for the morning, another one for lunch and a different tone for the evening. Also, Chameleon UI will come with some
pretty widgets
including ones for the following services:
Facebook
Twitter
Netflix
Instagram
Google Drive
Gmail
Clock
Calendar
Weather
Media Player
RSS Reader
The
minimum requirements
are an Android tablet running on Android
3.2
Honeycomb, or newer with a resolution of at least 1280 x 800 pixels. It seems that originally, Chameleon will work only in landscape orientation. Check out what you see and if you like it, vote with your dollar at the source link below.