'Cause of Death' short movie explores the horrors of iOS 7
44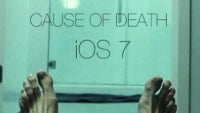 Apple has proudly announced that more than 200 million users updated to its newest iOS 7 in just 5 days, but ask some of those users and you'd find a lot of frustration with phones randomly rebooting, crashing and/or battery dying quicker than ever. For many,
iOS 7 has turned into more of a bug-infested mess
, an annoyance rather than a joyful update.
What if those bugs… well bugged you on a daily basis on and on? It seems that this was the inspiration between a short film by Alberto Belli named 'Cause of Death'. The idea is simple, what if you had to rely on your phone in a critical moment in your life? Could you afford to have it crash on you? What if a mysterious killer in blue jeans and a black turtle-neck is following you around?
We won't spoil this for you, but keep in mind it's NSFW for violence and murder. Remember, it's not always a bug, sometimes it's a feature.
source:
Alberto Belli
via
BGR