Castle Doombad is a tower defense game that allows you to play as the villain
4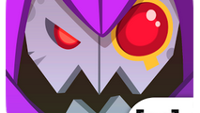 There is something common for 90% of all tower defense games – almost every time you play as the good guy, who has to wage war on the baddies. Well, it's not that we are complaining, but a little change won't hurt at all. It seems that the developer behind Castle Doombad had similar thoughts, as this fresh Android tower defense game puts you in the shoes of a macabre villain, Dr. Lord Evilstein.
The storyline of the game is nothing to write home about – the ill-doing Evilstein has hijacked a princess, who appears to be rather attractive to a jolly party of gallant do-gooders. Captivated by her beauty, the heroes are ready to stand up to Dr. Evilstein and break into his castle in order to save the unfortunate princess and (probably) take her hand in marriage. As you might have already guessed, you'd have to defend your gloomy fortress at all costs and keep the treasured princess in your possession.
The gameplay of Castle Doombad requires you to position various traps and obstacles on strategic places on the floors of your stronghold. In order to prevent the heroes from completing their goal, Dr. Lord Evilstein has a wide array of weapons and ploys at his disposal. These range from weird contraptions, such as circular crossbows, to enormous minions, which provide formidable defense against the waves of stubborn intruders.
Castle Doombad is available for both Android and iOS devices. It is priced at $2.99 and also comes with some in-app purchases.
Download: Castle Doombad (
Android
|
iOS
)