Carriers still struggling to meet persisting customer demand for the iPhone 4S a month after its launch
26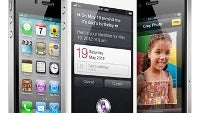 The iPhone 4S joined on three of US biggest carriers – AT&T, Verizon and Sprint, and all of them reported very strong initial sales and Apple alone has confirmed record-breaking 4 million iPhones sold within the first weekend.
Looking at carriers' websites, we can only get a confirmation. On
Verizon
, you'd have to wait over three weeks for the handset, but spokeswoman Brenda Raney confirmed that Big Red is in talks with Apple to meet demand. "Not only was the iPhone 4S popular when it was introduced, but the popularity continues to build. We don't want to keep our customers waiting for their purchases," Raney stressed.
On
AT&T
, the waiting period reaches 21 days, but the carrier often manages to get the iPhone 4S out to customers within 10 days, spokesman Mark Siegel confirmed.
"We are having some supply issues in the sense that demand's huge," AT&T's president of emerging devices,
Glenn Lurie, said.
"We have had just record-breaking sales on it."
Sprint
seems to handle the demand best of all and it would take you only around 14 days to get the next iPhone. Sprint's CEO Dan Hesse earlier had said that the lack of an iPhone in Sprint's phone lineup was the number one reason for the carrier loss of subscribers. Analysts expect the arrival of the iPhone 4S to Sprint to yield a 303,000 postpaid subscriber growth.
The iPhone 4S also recently launched on regional carrier
C Spire Wireless
, previously known under the Cellular South brand name. It seems getting it on C Spire, which unofficially has less than a million subscriber, is currently the fastest way to get the new iPhone. How long have you been waiting to get the new iPhone 4S? Do you see many people around you carrying the 4S? Let us know in the comments below.