Carrier 86's the Android flavored T-Mobile Sidekick 4G
7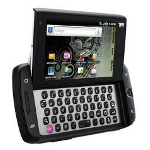 The T-Mobile Sidekick 4G,
which launched last April 20th to strong demand
, apparently
won't be around to see its first birthday
. A leaked screenshot of T-Mobile's recently discontinued list obtained by
TmoNews
shows the T-Mobile Sidekick 4G on the list of models that have reached the end of the line. You might remember that the original Sidekick, which was a bit ahead of its time with a well liked physical QWERTY keyboard and a swiveling display, ended up in hot water when data belonging to users
was sucked into a black hole
. While Sidekick owners did get most of their data back along with a
free month of service and a $100 credit
, the whole affair left a bad taste in some Sidekick owners mouths.
priced to sell at $99.99 on contrac
t, the whole smartphone platform had changed which allowed for HSPA+ connectivity and the 4G suffix on its name. But even less than a year after its launch, the T-Mobile Sidekick 4G had become something of a dinosaur with a single-core 1GHz processor driving the device, Android 2.2 installed and a 3MP camera on back that captures video at a DVD quality 480p. There is a VGA front-facing shooter.
While the specs really don't allow the T-Mobile Sidekick 4G to stand up the
current slate of dual and quad-core powered models
with 4.3 inch and larger Super AMOLED Plus screens, Google said that the T-Mobile Sidekick 4G was one of the most searched for consumer electronics products for 2011. And now, with a quick look at a T-Mobile screenshot, the device is gone.
With obviously a well known brand name, it certainly would behoove T-Mobile to update and refresh the Sidekick 4G. While the Sidekick 4G is gone, the Sidekick name can still live on for its fans. The nation's fourth largest carrier brought the device back once, so why not try it again?
source:
TmoNews