Carl Zeiss holds the "Carl" and becomes "ZEISS"
6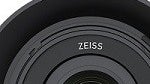 For those that do not know, ZEISS does more than photo-optics, the company has a wide portfolio that deals with microscopy, metrology, planetariums, even semiconductor manufacturing technology (lithography requires amazing optics).
Carl Zeiss has been using the "ZEISS" brand for a while, but the photo-optics we have seen on smartphones (and other lenses) have still been bearing the "Carl Zeiss" branding we are familiar with.
The change was made to "create consistency" across its brand (even though the company has been called ZEISS for a long time. Going forward, ZEISS will begin labeling its lenses differently The company was founded by Carl Zeiss in 1846 when he started making microscopes.
The branding effort is the result of the company's work to position ZEISS across the board and maintain a consistent image for the brand. No changes are being made to the company's products with the change of the brand, although we could see some aficionados wanting to hold on to equipment that has the founder's name as a potential collector's item.
We have already seen hints of the new brand on leaked images for the forthcoming Nokia EOS device being introduced on July 11th. A couple weeks ago
some photos emerged of the EOS chassis and PureView sensor plate engraved with 41MP and optics by ZEISS
.
sources:
My Nokia Blog
and
ZEISS Blog