Can't touch this (yet): Samsung's transparent, flexible screen envisioned on video
34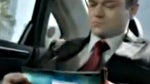 Wondering about possible use cases for futuristic tech like transparent and flexible screens? Samsung might have a few in mind, or at least, that is what we make of this new demo video, which features some completely ordinary people, using tech that obviously doesn't belong to their time.
Basically, the video shows us how, in future times, the transparent and flexible screens that Samsung is working on will be used in all kinds of stuff like super-thin tablet-like devices, watches, smart refrigerators, desktop workstations, vehicle navigation systems, credit cards and so on. While this is all very cool, we can't help but notice how everything else in Samsung's video has stayed exactly the same as we know it today, making the ultra-futuristic gadgets envisioned by Samsung appear a bit out of place. But maybe this is on purpose? A hint that such kind of technology is not that far? Who knows, maybe it's just that Samsung didn't want to waste too much resources on this concept video.
There are some other things that bother us in this video, like why does everyone act so artificially, but that is another story. Do you like the concepts that are showcased in this video? Do you think such devices will find their usage in real life? Feel free to share your thoughts in the comments!
via:
IntoMobile