Candy Crush Saga's developer goes public, loses almost $1 billion
26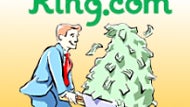 King, the developer behind the wildly-popular Candy Crush Saga, went public yesterday, but the price of its shares quickly fell below the $20 mark. The game company
hoped to establish a market value of around $7.6 billion via an IPO
(initial public offering) and it hoped to sell roughly 22 million shares priced at $22.50. However, the price of King's stocks quickly fell down 16% to $18.90, bringing the game developer's value to roughly $6 billion. The London-based company succeeded in selling just 15.5 million shares during the first day of its IPO, placing it among the worst-performing ones since Twitter went public back in November 2013.
"This was mispriced,"
claims Arvind Bhatia, an analyst with Sterne Agee.
"There are a lot of IPOs in the pipeline so investors are not starving ... and are being picky. Today's action also says investors are not going to ignore fundamentals."
The developer of Candy Crush Saga is the largest game company to go public since Zynga. As a side comparison, the price of Zynga's shares decreased by just 5% on the first day of its initial public offering and the company is currently valued at about $4 billion.
"Once you have a hit, it's hard to make a string of hits. How many bands were the Beatles?,"
asks Roger Kay, analyst with Endpoint Technologies Associates.
"Also, there've been a lot of high priced IPOs and mergers and acquisitions (of late) and when valuations get frothy, investors get disappointed when returns don't measure up to expectations."
The most sound reason for King's poor performance is the reluctance of investors to put their money in a company, which solely relies on the success of just one high-grossing game – the in-app purchases in Candy Crush Saga generated roughly $600 million for the company in Q4 2013 alone.
source:
Reuters