Candy Crush Saga for Windows Phone gets update to exterminate a bug
6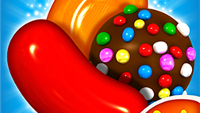 The other day, popular mobile game Candy Crush Saga for Windows Phone received an update that added 15 new levels to the game. While Candy Crush addicts were no doubt thrilled to have 15 more levels to try to clear, the update did bring some problems with it. Some players found that they could not get the game open after the update. This forced Candy Crush players using the Windows Phone platform to get back in touch with reality. A few were even seen talking to other humans and going to work instead of shirking their grown-up responsibilities to play the game.
Well, this morning we have good news for you Windows Phone totin' Candy Crush Saga players. You can return to your sloth-like existence as update 1.45.2.0 has been put up in the Windows Phone Store, correcting the problem that prevented the game from opening.
Candy Crush Saga, and all of its 860 levels, is a free download from the Windows Phone Store. But since employees and stockholders of developer King like to eat, there are in-app purchasers that you can make to enhance your game play. Let's just say that the "freemium" pricing model has been very good to the publicly traded developer.
source: CandyCrushSaga (
WindowsPhone
) via
WindowsCentral