Canadian carrier disguises cell tower as very tall pine tree
14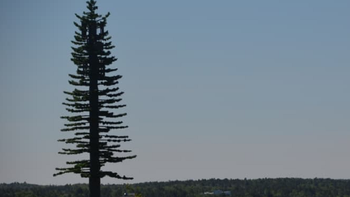 Cell towers have a specific look to them, and you can usually spot them easily as you travel in your car while navigating the roads of the U.S. As of August 2017, there were approximately 215,000 cell towers standing tall in the states. Across the northern border in Canada there are 13,000 such towers according to Innovation, Science and Economic Development Canada (ISED). And that number is rapidly rising.

Now there are those who will tell you that cell towers are as much of an eyesore as telephone and electricity poles, not that we agree with that line of thinking. Canadians, who are proud of their country's majestic snow-covered beauty, might be more apt to consider a cell tower to be an ugly blight against nature. So Canada's largest wireless provider, Rogers, decided to do something about this when building a cell tower in Northern Ontario.
In the city of Sudbury, the company put up a cell tower that rises well above the tree line; rather than be an eyesore for citizens in the area to complain about, Rogers disguised the tower to look like a very tall pine tree. The carrier isn't the first to do this, competitor Bell has erected several of these disguised cell towers starting as far back as 2012. Bell's faux trees have bases made of steel with fiberglass branches.
"This new Rogers tower brings LTE to the surrounding area, with an improved, faster, more reliable and consistent wireless experience to help our customers connect to what matters most to them. We work closely with communities and municipalities to provide the best wireless services, equipment and design to meet their needs. When determining the locations of our towers, our engineers take into consideration the proximity to communities, the visibility of the tower from passing traffic and existing structures, and the concerns of local residents. As with any potential tower, we work closely with the community and the municipality to make sure the design and location works for them."-Rogers
People living in the town of Sudbury don't seem to be fazed by the deception. One resident, Duncan Robertson, said that the structure would be uglier if it didn't have the branches. He does have one request for Rogers. "If they put Christmas lights on it in the winter, that might be nice, too," he said.