Canada provides a loan to Telefonica to buy BlackBerry products
5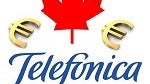 Telefonica, the world's fifth largest wireless carrier with operations in two dozen countries was provided with a €200 million (£170m , $260m) loan from Economic Development Canada for the purposes of buying BlackBerry handsets.
The loan, ostensibly backed by the Canadian taxpayer, will allow Telefonica to purchase BlackBerry smartphones, notably the upcoming Q10, arguably the more important BlackBerry in the new BlackBerry 10 series, with little direct risk.
While you might think that this casts a cloud over Telefonica, the problem is that it does not appear the company needs the money. The telecom giant has been able to continue growth of its global subscriber base in wireless, albeit under a declining revenue stream and an overall increased debt burden the past several years. Despite the global economic hiccups the past few years, Telefonica seems to be weathering the storm and the company continues to operate in the "black."
So that leaves only one real alternative conclusion, this loan is an indirect aid mechanism for BlackBerry to ensure bulk purchases of the devices. €200 million would buy about 500,000 devices at full retail. We will not see any hard numbers for BlackBerry 10 sales for a while, and even though BlackBerry contends that sales are great, the actions of some major players suggest that companies are hedging their bets.
You might recall the
announced 1 million handset order for BlackBerry 10 devices
. Brightstar will be distributing those devices to "big box" retailers as well as indirect sales channel partners for Verizon. That reduces the liability to Big Red substantially while still allowing Brightstar to peddle the goods to whomever will buy them if sales through Verizon channels do not meet expectations.
Even EDC's reasoning behind the loan does not make a whole lot of sense. Stating that the loan "just makes the purchase of [phones and services] and related lending easier, quicker and more efficient for all parties. There appears to be a need for financing for [Telefonica] at this time," the EDC does not really explain anything. Telefonica's net revenue of €3.9 billion is many times that of BlackBerry, making a €200 million loan to buy goods look rather gratuitous and out of place. Such loans in themselves are not out of place, short term credit facilities are often used by large companies because interest paid can be written off while still making a net gain on operations. Even then, those lending agreements are usually between a company and a bank or group of banks, not a government agency.
source:
The Guardian