Can the HTC One M9 survive drops and fire?
22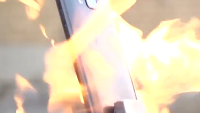 From the beginning of this drop test for the
HTC One M9
, we see our hosts wielding a welding torch which right away brings an ominous air to this drop test. We get the feeling right away that the One M9 is going to have to endure plenty of pain while we see just how much damage can be inflicted to the metal unibody handset.
The first test is a simple side drop from the middle of the chest, and the HTC One M9 sustains some damage on the bottom of the device. The next fall was created by removing the surface that the phone was resting on. This means that the handset's own weight combined with gravity as the One M9 took a scary fall, backside first. While there was only some minor scratches appearing after this drop, the HTC One M9 did land hard on its rear. The camera lens remained intact although the actual camera application would not open. The display-side drop was next and this did in the screen. While the glass was cracked, the display was still functional.
Next came a hot test that warmed the HTC One M9 to 700 degrees centigrade. Talk about a hot model! Keep in mind that none of that heat came from the Snapdragon 810 SoC inside the unit. After a period of time of getting hit with punishing heat, the HTC One M9 finally caved and stopped working.
The drop test didn't exactly prove that the HTC One M9 is a sturdy device. As far as the heat test is concerned, any phone is going to stop working when subjected to that temperature. Is there a lesson to be learned here? Don't drop your HTC One M9, and never lend your phone to someone waving around a blowtorch.
source:
Digiato