Can the BlackBerry Classic make some noise in India?
54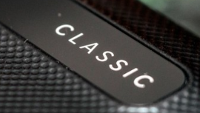 The
BlackBerry Classic
has been unveiled in India, and BlackBerry is hoping that its old school handset brings them some market share in the country. Currently, Samsung is the leading smartphone brand in India with a quarter of the market. BlackBerry's share is too low to measure, according to research firm Counterpoint. The BlackBerry Classic is priced at the the equivalent of $518 in India, above the $449 price of the phone in the states. India is worth fighting for because it has 950 million cellphone users with two-thirds still using a featurephone.
With the return of the function keys and the trackpad, BlackBerry is hoping that the Classic appeals to those who love the old-style BlackBerry look and feel, but want the latest BlackBerry OS inside. When CEO John Chen took over late in 2013, one thing he noted was that sales of the older
BlackBerry Bold 9900
were
still quite high for such a dated phone
. Buyers craved the old style 'Berry, especially the physical QWERTY keyboard on the model, which many feel is the best keyboard to ever grace a smartphone.
Sunil Lalvani, managing director at BlackBerry India, said that the new BlackBerry Classic is designed for corporate users in India who prize a secure mobile handset. But pricing could be a problem for regular everyday consumers given that
Samsung has just launched its low priced Tizen powered Samsung Z1
in the country, priced under $100. But Lalvani says that the low-end of the smartphone market is not where BlackBerry is playing. He calls it too cluttered, and says that buyers will pay a premium for the Classic's QWERTY and BlackBerry security.
source:
WSJ