Chen's comeback plan for BlackBerry compared to a quadruple bypass operation
7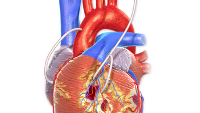 This past week,
new BlackBerry CEO John Chen gave us some idea of what to expect with his plan
to bring the company back from the dead.
Relying on its deal with contract manufacturer Foxconn
, BlackBerry will be providing software only to a series of low-end phones developed and produced by the contract manufacturer. Foxconn will also handle inventory, warehousing and order fulfillment. The company is still working on a couple of high-end models which should make the long-suffering BlackBerry fan in the states excited.
According to William Blair analyst Anil Doradla, Chen's decision to remove BlackBerry's input on the hardware side of the business, at least for all but high end models, makes the executive seem like a skilled doctor performing a very complex operation on a very sick patient. Doradla was impressed with the new CEO, who gave him a feeling of true leadership unlike past BlackBerry executives. Still, the analyst says it is way too early to decide if BlackBerry can deliver on the new plan.
One thing that we haven't heard Chen discuss, and we find fascinating, is that of the 4.3 million BlackBerry units sold in the third fiscal quarter, 3.2 million of them were running BlackBerry 7 OS. This surely has a lot to do with emerging market sales, and the low price of some older BlackBerry models in such regions. But there also is something to be said about certain older 'Berry models. Take the
BlackBerry Bold 9900
/
9930
. This handset just might still offer the best physical QWERTY ever attached to a smartphone.
It might behoove Chen to study the history of BlackBerry and see what worked and what didn't, and where the company went wrong, before he scrubs in for the delicate operation he must perform to save the patient.
"In a nutshell, the results were very unimpressive and weaker than the Street's already muted expectations across every conceivable metric. Although that in itself would have been reason for a strong sell-off in the stock, BlackBerry's new CEO's commentary hit the right chords across the investor base and potentially raised hopes of a miraculous comeback in the company's fortunes [...] In changing the incentives for the salesforce, aligning the company around end-customer needs, focusing on its core strength of security, and de-emphasizing its hardware business, Mr. Chen announced dramatic changes and came across as a skillful doctor conducting a complex bypass surgery on a very sick patient. Unlike previous BlackBerry management's presentations, this was the first time, in a very long time, where the company's leadership vision resonated well with us and we came away incrementally positive on the direction Mr. Chen has set out for the company."
-Anil Doradla, analyst, William Blair
source:
Barron's
via
BGR