Buy an Apple iPhone from Virgin and get 6 months of high-speed data for $1 per month
1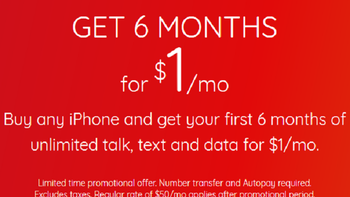 Pre-paid carrier Virgin Mobile is offering consumers who purchase any Apple iPhone from them, 6 months of unlimited talk, text and high-speed data for only $1 a month. Taking that into consideration, you could purchase a refurbished 32GB
Apple iPhone 7
for $299.99, or a refurbished 32GB
Apple iPhone 7 Plus
for $349.99. Add to that the $6 it will cost you for 6 months of wireless service through Virgin's Inner Circle plan, and you will end up paying $305.99 for an iPhone 7, or $355.99 for the iPhone 7 Plus, with half a year of high-speed data. There are two caveats, neither one an insurmountable obstacle; you must port your number over from the carrier you are leaving, and you must sign up for auto pay.
As far as the refurbished phones are concerned (Virgin calls them pre-loved), they are not certified, but are tested to make sure that they are functional. And while these models are cleaned, they could show some signs of usage and wear. These handsets are given a 90-day limited replacement warranty, and are shipped with a charger.
We should point out that you can also purchase new iPhone models from Virgin and still receive 6 months of high-speed data for only $1 per month. The 32GB Apple iPhone 7 is $549.99 new, while the Apple iPhone 7 Plus new is $669.99. Other recent models offered new include the 64GB
Apple iPhone 8
($699.99), 64GB
Apple iPhone 8 Plus
($799.99), and
Apple iPhone X
($999.99).
After 6 months, the price of the unlimited talk, text and high-speed data service rises to $50 a month. This includes "mobile-optimized video, gaming and music," and access to Member Benefits, which offers deals from retailers like H&M, Fandango and more.
If you're planning on purchasing an iPhone (new or pre-loved), buy it from Virgin Mobile and get six months of extremely cheap high-speed data. You can check out Virgin's website by clicking on the sourcelink.
source:
VirginMobile
via
CNET