Broadcom's new Automotive Bluetooth software paves the road for connected cars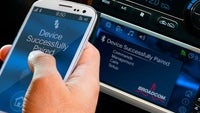 If the relationship between your smartphone and your car isn't as seamless as the one between your hand and the steering wheel, Broadcom's newest invention could signal a change. The semiconductor maker announced an Automotive Bluetooth software stack built to bridge in-car applications and Android devices with minimum hassle. The solution should deliver improvements in audio quality for hands-free calling and music streaming, and is future-proofed for easy synchronization between the vehicle and upcoming wearable devices. Smart-watches, glasses and clothing's embedded biometric sensors will come in handy for monitoring the driver's health, fatigue, blood alcohol content and other important indicators.
According to Broadcom, current Bluetooth automotive software is fragmented, inflexible and ultimately unsuitable for an increasingly growing market. Both Android's market share and the demand for smart-technology are on the rise, with projected data of 50 billion connected devices by 2020 and all cars being connected by 2025. Although these reports stretch well into the future, Automotive Bluetooth is expected to remain the standard connection with mobile devices. Broadcom emphasized the importance of open platforms such as Android for the upcoming paradigm shifts in the automotive industry, as Android's open-source flexibility will let automobile makers keep up with mobile trends and reach the market more quickly.
Speaking of mobile trends, the company also revealed its WICED system-on-a-chip platform for the
growing wearable market
. It manages to squeeze an ARM CM3 micro controller, a radio frequency unit, a Bluetooth stack and wireless charging capabilities all on a single chip. With projected shipments of 540 million wearable devices in 2018, it seems Broadcom has spent this year working hard towards a well-timed start.
source:
PC Magazine