Britain's advertising regulator thinking of looking into Apple iPad claims of 4G connectivity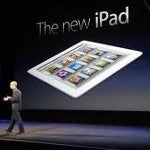 Britain's advertising regulator is thinking about taking a long look at Apple and
starting an inquiry into the tech giant's claims about the LTE 4G connectivity on the new iPad
. 24 complaints were received by the
Advertising Standards Authority about claims on Apple's website about the LTE 4G support for the third iteration of the Cupertino based firm's tablet. LTE is unavailable in Britain although some of the carriers in the country like 3 do support HSPA+ , an alternate 4G service that is slower than Long Term Evolution.

promoting the new iPad as having 4G connectivity it is referring to an HSPA+ pipeline, not LTE.
The Australian Competition & Consumer Commission disagreed and said that
Apple was misleading iPad buyers
. Small print on Apple's website does clarify that 4G connectivity in Australia means HSPA+ data speed and not the faster LTE connection. Obviously, the Australian regulators do not agree
with the ITU's decision in December 2010 to call HSPA+ 4G
.
Apple has offered refunds
to those Australians who feel that they were bamboozled. Obviously, the country supports HSPA+ networks but not LTE.
The problem is that the LTE connectivity on the new iPad is based on service available via Verizon and AT&T in the U.S. along with the LTE networks available in Canada with Bell, Rogers and Telus. Elsewhere, iPad buyers are stuck with using HSPA+ for 4G connectivity, where available.
source:
Reuters