Braven Six Bluetooth speaker lineup lands, prices start from $150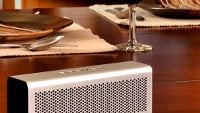 Braven's Six
series of Bluetooth speakers for mobile devices are now available with prices starting from $150 for the most affordable model. Braven its Six series as the most talented speaker implying that it not only output 3-watt stereo sound, but also doubles as a speakerphone and charges your device via a micro USB port (it also supports iOS devices' 30-pin port).
The Braven Six lineup features the Braven 600, 625s and 650, all pretty similar except for the build quality and battery life. The 600 is the most basic model selling for $149.99, and the rugged 625s costs slightly more at $179.99, and finally the aluminum 650 hits a price point of $189.99.
You can also daisy chain the speakers to fill the space with even more sound. The speakers look truly versatile, and we definitely like the design. Actually, Bluetooth speakers are one of the products where product designers really give their best and we can instantly think about brilliantly looking speakers like the Jawbone Jambox or Kickstarter's Hidden Radio & BlueTooth speaker. Check out the Braven lineup in the video below.