Braven BRV-1 BT Speaker hands-on
4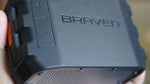 It's not every day we come across a rugged type speaker that's also resilient to some level of splashes from water, but that's exactly what we uncover with the
Braven BRV-1 BT Speaker
. Don't let its diminutive size fool you because it's packing quite a bit under the hood to make it a versatile speaker for on the go – and that's in addition for it doubling as a Bluetooth speakerphone as well!
When you're
IPX5 certified
for being
water-resistant
, design isn't something that's high priority, but luckily, they've managed to do a decent job with the looks of the Braven BRV-1 BT Speaker. Right away, we can tell that this thing is meant to last, thanks partly to its
solid construction
, impact resistant soft touch casing, and sturdy plastic body. Seriously, this is solidly made that it can really knock out someone if it's thrown right at them! Additionally, the bolts around the speaker grill indicate its
overall sturdy build quality
.
On the top edge of the speaker, we find 4 flat buttons integrated into the surface – these include the power, pause/play/multi-function, volume down, and volume up. Despite their indistinct feel, they have a reasonable amount of feedback when pressed. In the rear after uncorking its plastic cover, to prevent its ports from being exposed to the elements, we gain access to its microUSB to charge its own internal battery, a full-sized USB port that allows us to charge various devices on the go, auxiliary port, and a button that shows us how much juice is left.
Pairing it up with a BlackBerry Z10, there's no denying the
strong and powerful output of its internal speaker
. It's deafening no doubt, but at the highest volume setting, it can sound
extremely strained
– though, its bass tones are exquisitely pounding at all times. So much so that we can feel the table shaking a bit when it's placed solely there by itself. Still, at
$180
for this water-resistant, 1,400 mAh battery carrying Bluetooth speaker, it's a costly investment that's up there. Needless to say, it might suit a specific case scenario, but if you can forgo the ruggedness of this speaker, there are other options that might be more suitable.
source:
Braven
More portable Bluetooth speakers