Brace yourselves, Samsung Experience Shops opening in 1400 Best Buy stores indeed
33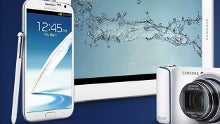 The
rumor
is now official and Samsung is indeed opening its own dedicated place inside 1400 Best Buy stores in the US.
Called
Samsung Experience Shops
, these are just the next string in the long chain of marketing efforts by Samsung, which
outspends Apple ten to one
in that realm, for instance.
About 900 of those will be open by the end of May, and 500 more in the summer. "
Samsung Smart Service
" and "
Samsung Experience Consultants
" terms get bandied about, hinting at yet another shot at mimicking Apple's widely successful retail stores.
At the Samsung Experience Shops, consumers can experience Samsung's full range of mobile products including smartphones, tablets, laptops, connected cameras and accessories, all in one location. The shops enable consumers to interact with and buy Samsung's latest mobile products and experience how the devices connect together to enrich their lives,
Samsung and Best Buy are even launching a dedicated section on the retailer's website that is only geared towards the Experience Shops, and offers just Samsung products.