Bought an app you don't want? Here is how to get your money back
4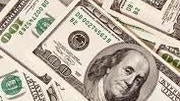 So let's say that for one reason or another, be it an honest mistake or an impulse purchase, you buy an Android app that you don't really want or need. What do you do to get your money back? If you act quickly, you can always go back to the app's page and hit that "Uninstall & Refund" button. You get your money back without the need to explain what made you change your mind. This, however, works for no longer than 15 minutes after you buy the software in question.
Yet the folks at
Android Central
have learned about a way of
getting a refund on an Android app purchase past that 15 minute time window
. In their guide, they refer to section 3.4 of the Android Developer Distribution agreement, which states:
3.4 Special Refund Requirements. The Payment Processor's standard terms and conditions regarding refunds will apply except the following terms apply to your distribution of Products on the Market.
Products that can be previewed by the buyer (such as ringtones and wallpapers): No refund is required or allowed.
Products that cannot be previewed by the buyer (such as applications): You authorize Google to give the buyer a full refund of the Product price if the buyer requests the refund within 48 hours afterpurchase.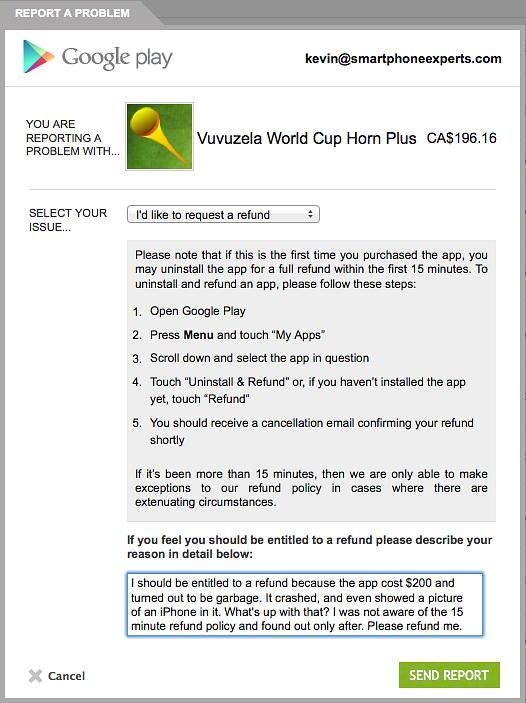 So yeah, you can request a refund on an app within 48 hours after you purchase it, and here is how you do that:
Open the Google Play store, log in using your credentials, scroll all the way to the bottom of the page and follow the "My Orders & Settings" link
Now find the app you want to get a refund for and hit that "Report a problem" link
From the drop-down menu, select "I'd like to request a refund"
Now use the text box to explain in detail the reason why you want to have your money back
We have to point out, however, that there is no guarantee that your request will be honored. Still, it is worth giving it a shot if believe you are entitled to a refund. And in case you wonder what app the guys requested a refund for, it was that
terrible Vuvuzela app that we recently wrote about
.