Boston University sues Apple for patent infringement
33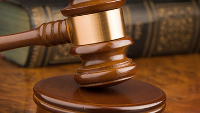 Boston University is suing Apple, alleging that the Cupetino based tech giant used an electronic component that was invented by computer engineering professor Theodor Moustakas, without licensing it. The small part, patented in 1997, is found in the
Apple iPhone 5
, Apple iPad and MacBook Air. This could end up being an amazing windfall for the school considering that 55 million Apple iPhone 5 units were sold as of May. Last year,
Apple sold its 100 millionth tablet
.
Boston University has already filed claims against eight other manufacturers including Samsung and Amazon. One tech analyst, Roger Kay of Endpoint Technologies Associates, believes that if BU wins its case against Apple, it could end up netting as much as
$75 million
. He says that a settlement could also result in that high of a payout. What might sway a jury in the University's favor is the fact that at least one company pays a licensing fee to use the component in question.
"Courts can be irrational in these cases. You get these ridiculous judgments sometimes and they may think of Apple as a big, rich company that doesn't deserve all that money."
-Roger Kay, analyst, Endpoint Technologies Associates
source:
BostonHerald
via
electronista