Bonkers rumors - Meizu MX5 to sport 41MP camera, Xiaomi Mi5 to retain $325 tag with Snapdragon 810 CPU and QHD screen
11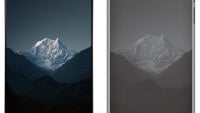 It won't be long before 2014 moves over to make place for 2015, which means it's about time for the wildest, meatiest rumors to begin whirling in our general direction. And when it comes to the type that deals with shocking specs, Chinese vendor Meizu is second to none. Known for benchmark-busting smartphones that, kind of, sort of, resemble the iPhone in look and feel, the company might be gearing up to unleash another monster, just months after it
delivered the Meizu MX 4 Pro
. That one had a 5.5-inch QHD screen, an 8-core CPU, gobs of memory, a 20.7MP rear camera, and a fingerprint reader.
How d' you top all that? Well, rumors speak of a 41-megapixel camera sensor and a... secondary screen? Okay, we seriously don't know what else to make of the back panel pictured in this Meizu MX5 render that surfaced from Weibo. Could this be an e-ink screen? We won't be betting the house on either of the two rumors, but we're pretty sure Meizu will find new ways to surprise the spec junkies with its next smartphone.
Now, we can't talk about Chinese phones without mentioning Xiaomi, can we? After an incredibly strong year, the hot-shot company is mad with power, which it has to sustain without giving the competition any break. According to analyst Sun Chang Xu,
Xiaomi's 2015 flagship, the Mi5
, will pack Qualcomm's most powerful processor to date, the Snapdragon 810 octa-core 64-bit beast, along with a 5.7-inch QHD screen. Most mind-blowingly, the handset will be retaining its usual $325 Chinese price-tag. Well, that's Xiaomi for you!
Now, at this point these are just some interesting rumors with at least a nugget of credibility to them. Whether they ring true or not in the end, we're certain that 2015 will be a huge year for smartphones. Or, possibly, a huge year for huge smartphones, because most manufacturers don't see the practical point of QHD resolution displays that are below 5.5-6 inch diagonals. Other than bragging about pixel density, that is.