BlueStacks runs Android apps on Windows 8
36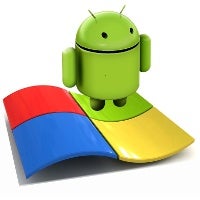 The upcoming
Windows 8
promises to bring the future not only on your desktop but across various devices, but when it comes to Microsoft's software - it's still lacking the apps to challenge iOS and Android. The Windows Phone Marketplace just passed the 55,000 app threshold, but that multiple times less than the Android Market and the App Store. That's where Bluestacks comes in with its software allowing you to run Android software on Windows 8.
"The Metro UI is beautiful, but the number one thing Windows 8 is missing is apps,"
BlueStacks CEO Rosen Sharma said.
"This changes all that."
At CES 2012, the company revealed a working demo of the program which will run Android applications of all sorts on Windows 8. Moreover, it integrates them with the Metro UI tiled styling, so Android apps look like native ones on Microsoft's platform. Bluestacks' app will support both the tiled view and the traditional one.
Interestingly, Bluestacks has been negotiating a deal with OEMs to come pre-installed on Windows 8 machines. Would you like to see Android apps on Windows Phone?
BlueStacks Announces Windows 8 Compatibility

Apps-on-PC company will bring 400,000+ Android apps to Windows 8 in 2012.

OEMs to release BlueStacks-enabled Windows 8 tablets and Ultrabooks.

CAMPBELL, CA – January 10, 2012 – BlueStacks announced today that its "App Player" software, which runs mobile apps natively on PCs and tablets, is now compatible with Windows 8. The company demonstrated the technology on a Windows 8 Ultrabook at CES today with reporters.

Windows 8 is Microsoft's first operating system built with mobility in mind, using the new "Metro" user interface. BlueStacks will integrate over 400,000 Android apps seamlessly into the operating system, where they will take the form of tiles alongside other programs. "The Metro UI is beautiful, but the number one thing Windows 8 is missing is apps," noted BlueStacks CEO Rosen Sharma. "This changes all that." BlueStacks makes creating mobile apps for the Windows 8 platform unnecessary, as most every app built for Android will now run on Windows 8 without any porting. The software will support both standard desktop and Metro UI modes.

BlueStacks is actively collaborating with top PC manufacturers to pre-load the BlueStacks App Player on Ultrabooks, tablets, notebooks and all-in-one desktop PCs. Their newest in a series of OEM partnerships is one with the Taiwanese manufacturer InHon. Inhon plans to release its first Ultrabook in March 2012 with BlueStacks App Player pre-loaded, followed by a Windows 8 Ultrabook later this year. "So many of the applications that people want to use have moved to mobile platforms," said InHon CEO HongFan Wei from Taiwan. "We're excited to be first to market with a Windows 8 Ultrabook that combines the best apps from both worlds."

BlueStacks was named a CES Innovations winner for 2012 at the conference this week. It is the only program worldwide that can run native mobile applications that are ARM-based or x86, windowed or fullscreen, on Windows PCs and tablets.