Blu Studio 7.0 launched as "the world's first 7-inch smartphone", costs just $149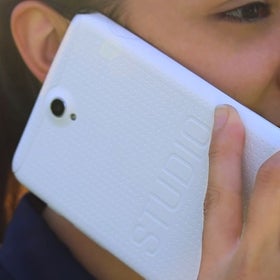 Usually, devices with screens of 6-7 inches that can make phone calls are presented as phablets, or tablets with phone functionality. Well, that's not the case with the Blu Studio 7.0, which today was announced as a "the world's first 7-inch smartphone" - despite the fact that
similar devices are already on the market
.
The Blue Studio 7.0 is available to buy from Amazon for $149, being compatible with "any GSM network" in the US - including AT&T and T-Mobile.
Since you can't expect a $149 device to offer advanced features, you shouldn't be surprised to find out that the Blu Studio 7.0's 7-inch display has a 600 x1024
pixel
resolution, and a very low 169 ppi density. The huge smartphone runs Android 4.4 KitKat, and is powered by a dual-core
1.3
GHz MediaTek processor that's paired with 1 GB of RAM. On the back (which has a perforated texture a la Samsung) we can find a 5 MP autofocus camera with LED flash, while a 2 MP camera resides on the front. 8 GB of expandable storage space and a 3000 mAh battery complete the specs list.
Measuring 187.5 x 103 x 9.4 mm and weighing 294 grams, the Blue Studio 7.0 has four color versions: grey, white, blue, and gold.
In case you don't know, Blu is a US-based company that claims to design its products in Miami, while assembling them in China. Most of Blu's devices run Android, though the company recently introduced a couple of Windows Phone
8.1
handsets as well.
Back to the Studio 7.0, would you use a device like this as your main smartphone?
Blu Studio 70
sources:
Amazon
,
Blu
,
PR NewsWire