Blind cameraphone comparison 2 (Results)
45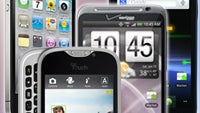 When judging camera quality on smartphones you have to face the cold facts – the pictures. Over the course of the past week we gave you this very pictorial raw material from four smartphones, but we've stripped down brand names and revealing details about a picture – everything that could distract you from judging anything else but the
pure quality of the images
. It was a challenge that would pin-point the best camera among four top smartphones, each available on a major US carrier. But we should also mention that the participating phones are not necessarily the best cameraphones out there – they rather give a rough concept of current high-end carrier offers. So now that you've cast your votes, we've summarized the results and are ready with the final verdict.
So with no further ado, we present you the four smartphone participants in our test: the
Apple iPhone 4
(appearing as Device 1 in the outdoor test and D indoors), Sprint's
Google Nexus S 4G
(dubbed 2 and C), Verizon's
HTC ThunderBolt
(known as 3 and B) and the
T-Mobile myTouch 4G Slide
(4 and A). We've also used the Canon PowerShot A590 for reference, an 8-megapixel point-and-shoot digital camera released in 2008.
The first question we asked was about
outdoor performance
– with plenty of August sunlight and colorful landscapes, the phones should have shown their best game. We've split the images in two categories – in the first one they were all downsized to a common web format, while in the second one we took 100% crops to better illustrate their ability to catch fine details.
One handset
grabbed the crown
in both our
outdoor tests
– Sprint's Google Nexus S 4G with its 5-megapixel camera stood out. The iPhone 4 ranked second, trailing by around 7 to 8%.
But what about the LTE-equipped HTC ThunderBolt and the other HTC-made T-Mobile myTouch 4G Slide, the latter claiming to be the
"most advanced camera of any smartphone"
? They were nearly tied at the bottom with the ThunderBolt overcoming in the detail poll, while the myTouch 4G Slide finished slightly ahead in the first round. Interestingly, both the myTouch 4G Slide and the ThunderBolt come with 8-megapixel cameras, a higher resolution than the 5 megapixels on the iPhone and Nexus S 4G, and a great illustration that pixels don't matter that much.
The second set of images we gave you was
shot indoors
– after all, a lot of the interesting stuff in life happens behind four walls. And our test proved this – our kind model cat grew laser eyes for your entertainment. But the test also gave a good idea about how well exposed you can expect images to turn out in very limited light as well as how realistic would be the colors.
So do we have a
clear winner
here? This time the myTouch 4G Slide with its backside-illuminated sensor allowing it to catch more light won by a landslide in both our downsized images and 100% crops. With plenty of details and warm colors, it managed to steer away from the red-eye (or robot eye if you wish) problem. The HTC ThunderBolt finished a distant runner-up.
But there wasn't only a winner – we'd dare to sum up the vote and say that there are
two big losers
for indoor shots – the iPhone and the Google Nexus S 4G transforming both our models into scary laser eyed versions of themselves. And those are the exact two devices which you liked best for outdoor shots!
It was Sprint's Google Nexus S 4G which impressed you most outdoors and we have to give it credit for that, but we should also admit that for outdoor performance the race was close. The same Nexus S 4G couldn't win your heart in the second test, though, where the T-Mobile myTouch 4G Slide shined.
Finally, this test makes it clear that cameras in smartphones tend to perform differently under different conditions. While some handsets performed great outdoors, they failed in low-lit scenes, so it seems like a good idea to take this into account that when picking a cameraphone. Moreover, outdoors the 5-megapixel shooters in our test ranked better than the 8-megapixel ones, so bottomline is that the spec sheet doesn't necessarily always tell the whole story. But after all, whether you agree with the results or not, it's up to you to draw conclusions from this blind comparison and hopefully get the perfect phone for your needs next time.