Blind camera comparison: Galaxy S8 vs iPhone 7, Google Pixel, and LG G6
58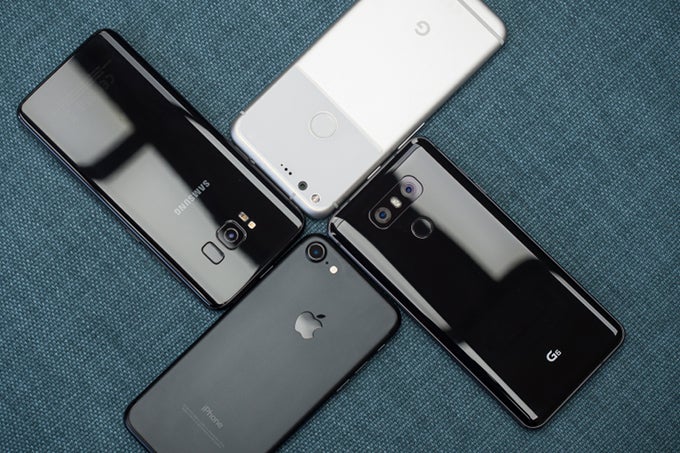 Cameras have long ago become the make-or-break aspect of any contemporary smartphone. Even if all other boxes are checked with flying colors, a so-so camera can turn any device into a forgettable affair that doesn't click with the target audience.
With that in mind, we decided that a blind camera comparison between 4 of the most promising camera phones out there is definitely something that's due. That's why we took the dazzling new
Galaxy S8
, the supreme Google
Pixel
, the venerable
iPhone 7
, and the wonderful
LG G6
on a camera trip.
All photos were shot with each camera's default settings, in Auto mode, with the EXIF data timely purged. The polls will be open until May 14 and this post will be subsequently updated with the results.
All set? Let's go!
Scene 1: Memorial bust
In this particular scene, I wanted to capture the memorial bust in all its glory, though the setting sun was not making this any easy for me. Luckily, all of the phones were intelligent enough to automatically enable their built-in HDR shooting modes, recognizing the need for blending a bunch of differently exposed photos in order to capture as much detail on the bust as possible. Admittedly, some phone fared better than others, but let us hear you - which photo do you like best?
Scene 2: Urban


The back of a monolithic opera building is never as impressive as the front, but it also has its own architectural merits.
Scene 3: Neon sign


Neon signs are slowly going the way of the dodo since LED lights are the new kid on the block. Hence, it's always worthy to snap a picture should you stumble upon a functioning neon sign in the wild, especially if it's a hip red one.
Scene 4: Sunset over the Danube

Sunsets are stunning, period. We shot one with all four phones and... It's your call! Which one do you like the best?








Scene 5: Raindrops


Raindrop, drop top, we love taking pictures of flowers nonstop! Okay, that was bad. Blooming flowers are a stunning sight, especially if they are awash with spring raindrops. What is your favorite photo?









Scene 6: Blooming peony

Finally, we have a beautiful peony flower in full bloom. A stunning sight one needs to experience with their own eyes, and while the pictures below can't do it justice, you most probably will like one of the photos more than the others.