BlackBerry will update 'all existing PlayBooks' to BB10
9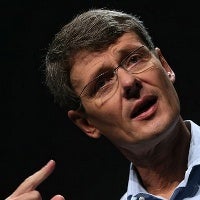 BlackBerry's chief executive Thorsten Heins has just confirmed that 'all existing PlayBooks' will get updated to BlackBerry 10. The 7-inch PlayBook tablet was released in a few versions varying by capacity and connectivity, if you're wondering what he's referring to.
When asked about future BlackBerry tablets, Heins was pretty vague, saying that the company is trying to figure out a way to sell a tablet with services since just selling hardware isn't really bringing sufficient profits.
"We are looking for specific value added services on top of the tablet,"
Heins said.
The answer came at a Q&A sessions after the BlackBerry 10 launch where the CEO also said the full QWERTY
BlackBerry Q10 should come in April
and confirmed the Z10 comes with a user-removable battery.
When asked about the company's goals, Heins forwarded the question to marketing head Frank Boulben who said BlackBerry wants to quickly become the third biggest name in smartphones.
source: BlackBerry