BlackBerry signs one-year deal to provide alerts and notifications to Pentagon workers
12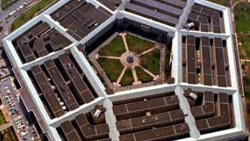 Just because BlackBerry has become an also-ran in the smartphone industry doesn't mean that the company isn't continuing to make strides in its other businesses. This morning, the company announced that it signed a 1-year pact with a non-military company that provides security for the Pentagon. The deal, made with the
Pentagon Force Protection Agency
, covers internal and external alerts, messaging, and emergency notifications.
The Agency is a civilian company has been charged with the security of those inside the Pentagon, whether an occupant or visitor. It also is in charge of maintaining the safety of the building and the physical plant. Including the Pentagon and other DoD buildings, BlackBerry provides this service to 37,000 Defense department workers.
BlackBerry did not publicly disclose the value of the contract, but did say that it is renewable through 2020. With the company removing itself from the handset business slowly (
it plans on releasing two Android powered phones this year
, according to CEO John Chen), BlackBerry will be focusing on deals like this one which take advantage of the company's networking business, its device management tools and still positive name in the enterprise.
Despite the fact that BlackBerry's deal is with the civilian company, it still seems strange to have a Canadian firm help keep up the security of an American defense icon like the Pentagon.
source:
CBC
Recommended Stories