BlackBerry says it has nothing to do with fake BBM reviews on Google Play
10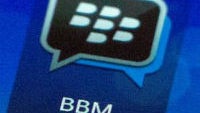 When BlackBerry finally released the BlackBerry Messenger app for iOS and Android, the release was a bit marred by hundreds of fake reviews being posted to the Google Play listing of the app. This is not the first time that fake reviews have been posted on a Google Play listing, and it likely won't be the last, but the high profile case of BBM brought attention to the issue.
Of course, because of the state of BlackBerry, there was concern that the company may have
pulled a Samsung
, and paid people to post those fake reviews (although to be fair, Samsung would have had the reviews on a competitor's app and made them negative, so the analogy isn't perfect.) But, BlackBerry wants to set the record straight and make sure it is clear that the company had nothing to do with the reviews, and doesn't condone such actions. BlackBerry said in a statement to
The Next Web
:
We have been made aware of a number of potentially fake reviews of BBM for Android on Google Play, with ratings anywhere from one to five stars. We have no knowledge of how these reviews were created or populated. We do not approve of or condone such activities. There are also many genuinely great and useful reviews from our new BBM users on Google Play. We would like to encourage our fans and users to continue to provide true assessments of the BBM experience through the proper channels.
However, we'd rather see a response by Google on this because fake reviews have been a problem on Google Play for a long time. Tying reviews to Google+ profiles has helped a bit, but hasn't fixed the problem by any means, so obviously something more needs to be done.