BlackBerry responds to Facebook and WhatsApp's decision to drop 'Berry support for their apps
17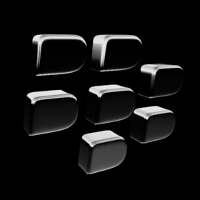 Just the other day, we told you that a big change was coming to the Facebook apps found on BlackBerry 10 and BB OS. Starting on March 31st,
the Facebook apps for those platforms will no longer work
. After being updated by the user, they will link to the web based version of the social media site. The private APIs used on the native Facebook app for iOS and Android is not offered to BlackBerry, forcing the change, Days earlier, WhatsApp said that it would
drop support for all BlackBerry operating systems by the end of the year
.
BlackBerry says that it tried to work with Facebook and WhatsApp to see if they would change their minds, but it was to no avail. BlackBerry suggests that disappointed Facebook and WhatsApp users go to social media and complain about the lack of BlackBerry support by posting to #ILoveBB10Apps.
BlackBerry will make up for the loss of the two apps by launching a new feature on BlackBerry World called
Great Apps on BlackBerry.
This is a list of 20 native apps available for BlackBerry 10. A new list will be released every two weeks, once a month. To be considered a "greatBlackBerry app," it must be built using BlackBerry 10 Native/Cascades or WebWork HTML5. It must have a 3-star rating, do all the tasks outlined in the app's description, and can't be built using a template. It also can't be merely a link to the a web application. That's ironic because that is exactly what the Facebook apps on BlackBerry have become.
On it's
Inside BlackBerry
blog, the company responded to the decisions made by Facebook and WhatsApp. You can read the manufacturer's response in its entirety, below.
The app landscape continues to evolve, and in ways that are not always within our control. Recently, Facebook made the decision to discontinue support of their essential APIs for BlackBerry and WhatsApp announced they would end support for BlackBerry 10 and BBOS at the end of 2016.

We are extremely disappointed in their decision as we know so many users love these apps. We fought back to work with WhatsApp and Facebook to change their minds, but at this time, their decision stands (but let them know how you feel on social media, using the hashtag #ILoveBB10Apps). Despite this, we have worked hard to ensure our end users have the best experience in light of this decision, and are continuing to search for alternate solutions.

Our commitment to BlackBerry 10 and to developers has not changed – we know our developer community continues to be one of the strongest proponents of BlackBerry 10 and they are creating thousands of apps every month. As a way to support them and to promote new apps, we're now featuring some of the best native applications on BlackBerry World in a list called "Great Apps on BlackBerry." The category will be a list of 20 applications, featured for two weeks, once per month, similar to the way we feature apps on the BlackBerry World Carousel. We're also continuing whenever we can to invest in apps important to users, such as the update to the Twitter app released today with important fixes and another update coming in a month with new features. This ensures that our many BlackBerry 10 customers have the best OS and apps possible.

We look forward to new apps and new customers on BlackBerry 10 and thank our developer community for their continued strong support!-BlackBerry
source:
BlackBerry
via
MobileSyrup