BlackBerry releases the first official photos of the BlackBerry Priv
56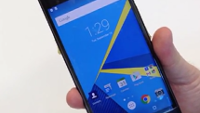 Ok, just because
BlackBerry CEO John Chen had a hard time working the BlackBerry Priv
when he did an impromptu hands-on the other day, doesn't mean that BlackBerry isn't 100% fully committed to its Android powered slider. In fact, the company has posted a series of photos on its blog today, that represent the first official portrait of the handset.
The company also noted that it will soon reveal when the eagerly-awaited handset will be offered for purchase. Judging from the excitement that BlackBerry has kicked up with the Priv, this could end up selling like hotcakes once launched. We expect to hear that the 5.5-inch screen has a 1440 x 2560 resolution, and that the device is powered by the Snapdragon 808 chipset. That means the phone will have a hexa-core CPU and the Adreno 418 GPU. 3GB of RAM is said to be inside, and the 18MP rear-facing camera should come with OIS.
BlackBerry seems interested in promoting the secure aspects of the device, and that is important to differentiate it from other Android phones. But for the Priv to live up to its potential, the consumer appeal of Android cannot be understated, or else BlackBerry will end up in the same position that was in before getting this boost from the Priv leak.
source:
BlackBerry
Recommended Stories