BlackBerry pushes out major update to BBM for BlackBerry 10, iOS and Android
27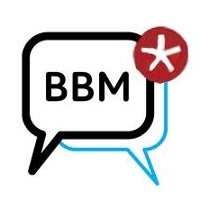 https://www.phonearena.com/Today is a big day for BBM users regardless of which platform they use. BBM for BlackBerry 10, iOS and Android are all being updated. For iOS and Android, the update includes BBM Voice, which is already on BBM for BlackBerry 10, and will allow users to make free phone calls to other BBM users regardless of platform. After the update, BlackBerry 10, iOS and Android users will be able to share pictures, documents and voice notes with one click.
In addition, BBM for iOS and BBM for Android are both getting BBM Channels. These are basically discussion groups that users can create. Topics can include sports, hobbies, movies, television shows and more. Posting to a channel starts off a discussion and specific chat hours can be posted. BBM subscribers are alerted whenever there is a new post on a channel they follow. BlackBerry is hoping to monetize Channels by allowing companies to open a channel for a brand or specific product.
The update adds location sharing, powered by Glympse. This tool allows a BBM subscriber to share his location with specific members, for a certain period of time. This is perfect for those times when you're running late and you want those you are supposed to meet, to be able to follow your progress to the meeting place in real time. The beauty of Glympse is that you set the period of time that your location is available for others to see. Once the time you set has expired, your whereabouts become private once again.
With the update to BBM, users receive support for Dropbox. This is a cloud based storage application that allows you to send files from your personal Dropbox account to your BBM contacts, and save files from BBM to your Dropbox account. Lastly, the update adds 100 new emoticons, bringing the total number to 200. Some of the new emoticons were based on drawings submitted by BBM subscribers.
The update is available to BlackBerry 10 users from BlackBerry World, Android users from the Google Play Store, and iOS users from the App Store. Before the end of the year, BBM Video is expected to be added to the messaging app, allowing BBM subscribers to have video chats with other members.
via: Crackberry
WATERLOO, ONTARIO--(Marketwired - February 13, 2014) - A new version of BBM™ will be available later today for Android™, iPhone and BlackBerry® (NASDAQ: BBRY)(TSX: BB) customers, giving them lots of exciting new features. Android and iPhone customers will now be able to make free voice calls to BBM contacts over a Wi-Fi® or data connection with BBM Voice(i), as well as access BBM Channels. In addition, BBM customers on Android, iPhone and BlackBerry(ii) smartphones will have more to chat about with fast one-click sharing of photos, documents, voice notes and more. BBM customers will also be able to share their live location for a specified amount of time with other BBM contacts by using location sharing, powered by Glympse, and will have 100 new emoticons available to help them say what's on their mind.

"BBM continues to deliver new functionality as a premier messaging platform that provides a simple and effective way to stay connected. Today's announcement gives Android and iPhone customers the rich experience of BBM Voice and BBM Channels - two great ways to connect with friends, family and colleagues, to build out communities around shared interests, and to follow your favorite people and brands," said John Sims, President, Global Enterprise Solutions at BlackBerry. "BBM continues to quickly evolve as a social mobile platform for consumers as well as for business customers through innovative features that give you great new ways to connect and share with each other."

BBM Channels

BBM Channels lets customers chat with other BBM users about topics that interest them. Customers can join channels about a range of topics from products, hobbies and sports to entertainment, fashion, cars and more. Channels can be created by brands, businesses and BBM customers alike and are a great way to communicate directly and immediately with people who share common interests in the broader BBM community.

By posting to their channel, channel owners immediately reach their subscribers with a message that can spark discussions. "Scheduled chat hours" allow BBM customers to have live chats with the channel owner - a great way to engage directly with their favorite channels one on one.

BBM Channels maintains the BBM core values of immediacy, privacy and control. Because BBM Channels live right inside BBM, BBM customers get notified the moment one of the channels they follow has a new post, or when someone responds to their comments.

With BBM Channels, customers can engage with brands or other customers without having to add them to their contact lists, thereby maintaining a high level of privacy. With BBM Channels, customers have the discretion to opt in only to channel brands that are relevant to them and always have control over the channels they subscribe to, while channel owners have control over how subscribers interact with their channel.

For brands and businesses, BBM Channels provides a new way to interact and connect with a highly engaged and targeted mobile audience. There are thousands of brands already using BBM Channels to engage with their customers. More on BBM Channels:

Open, yet private. Channel owners control the conversation on their channels. Channel owners can choose to: allow subscribers to comment on posts freely or to approve them first; let subscribers chat with them directly anytime, or set chat hours; they can interact with subscribers without ever giving out personal details, or adding them as a personal BBM Contact. And with private channels, channel owners can keep in touch with closer circles on an invite-only basis.
Channel reporting. Each channel has its own performance dashboard built right in. Channel owners can see stats on how subscribers are engaging with their channel, how many people have viewed each post and how the subscriber base is growing.
It's fast and easy. Start a channel right from a BlackBerry, iPhone or Android smartphone. It only takes a few minutes to set up a BBM Channel and once it is set up, posting to it is as simple as choosing a photo and adding a short message

Location Sharing

With location sharing powered by Glympse, customers can now share their real-time location with one or several BBM contacts for a specified amount of time - perfect for when people are running late, out with friends and more. BBM puts control in the customers' hands, allowing them to specify how long they want to share their location for, by setting a timer. When the timer runs out the customers' location becomes private again.

Dropbox Support

Built-in support for Dropbox™ makes it easy to send large files like presentations and videos. With Dropbox built in to BBM, you can send a file from your personal cloud directly to a BBM contact. On the receiving end, you can save the file directly to your smartphone or add it to your Dropbox account.

Emoticons

BBM customers have been asking for more emoticons, and now more than 100 new emoticons have been added to help you express yourself. Many of the new emoticons came from ideas submitted by customers!

BBM continues to connect friends, family and colleagues across a myriad of mobile networks, as the standard for mobile instant messaging with a fast, reliable, and engaging experience that puts control of privacy and personal information back in the customers' hands.