BlackBerry Touch, aka Monaco/Monza, photos surface on the web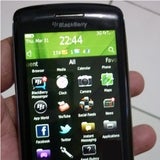 An upcoming full touchscreen smartphone from RIM arsenal has made yet another appearance on the web in a brief photo session supposedly running BlackBerry's updated mobile platform – OS 6.1.
It is suggested that this device will be launched as the
BlackBerry Touch
, even though right now the smartphone bears two separate codenames –
Monaco
and Monza, with the former representing the Verizon-bound CDMA model and the latter being the GSM version. Regardless of its name, the smartphone's supposed hardware specs remain the same – a 3.7-inch WVGA touchscreen in front, 5-megapixel camera on its back with 720p video capturing capability, and a nimble 1.2 GHz processor under its hood. The hardware inside the phone is an upgrade compared to what we have seen from RIM's previous touchscreen handsets, and considering the amount of time it is taking them to polish the device, it should not disappoint when it launches later this year.
Stay tuned for more rumors and tips revolving around RIM's upcoming smartphone, as there will probably be more of them before its release. In the meantime, feel free to check the device's photo set and share your opinion with us!
source:
Boy Genius Report
via
BlackBerryOS